If you're in high school, preparing to apply for college is an essential landmark in your life. Although it's the logical next step on your educational journey, attending a university can come at a hefty price tag. Scholarships are one way to reduce that price tag. Today we are sharing 10 tips on how to get scholarships in 2022.
Fortunately, millions of private scholarships and fellowships valuing in the billions get awarded to students each year. The National Scholarship Providers Association (NSPA) estimate that 7.4 billion dollars in private scholarships are awarded annually while the federal government and colleges award about $95 billion in grants and scholarships. Unlike loans you have to pay off, college scholarships often come as grants. Grants don't require you to pay the donating organization back.
As you might imagine, competition for these scholarships is high. There are ways to help yourself stand out as a scholarship applicant. Here's a list of handy tips to maximize your chances of snagging a scholarship for college.
Start Your Scholarship Search Early
Congratulations on all the hard work you've done to get this far!
If you're gearing up for your senior year of high school, responsibilities will inevitably be right around the corner. Schoolwork and responsibilities will pile up. Getting a head start will spare you from unnecessary stress down the road. Start looking for scholarships to apply to as soon as you and your family identify the potential need for one.
You don't need to wait to hear back from your dream school to apply for scholarships. Begin during the summer before senior year to set yourself up for maximum success.
Use A Scholarship Search Engine
It can be overwhelming to know where to start when looking for scholarships. This comprehensive scholarship database allows you to flip through over 1.9 million scholarships. To help narrow your search to only the most relevant scholarship opportunities, you can filter your searches based on demographic and other criteria, including:
Ethnicity
Gender
Disability
State of Residence
Area of Study
Type of Study (full-time or part-time)
Amount (minimum award amount)
Application Deadline
Financial Need
Filtering your search results will allow you to view a list of customized scholarships to save time.
>>RELATED: 7 of the Biggest Scholarships You Can Win
Get Organized
Once you know what opportunities are available, begin curating a list of scholarships to which you want to apply. Start a spreadsheet with all the scholarship applications you wish to submit. You'll want to jot down each application's deadlines, requirements, and other pertinent information.
Like college applications, different scholarship applications will have varying requirements and deadlines. It takes sufficient effort to keep track of multiple scholarship applications. Read the instructions carefully to determine what information a scholarship application might require, such as a letter of recommendation. Keep documents such as essay drafts in one folder on your computer.
Consider creating a "brag sheet" or list of your proudest accomplishments. Putting a brag sheet together will help you have a better idea of what to talk about in not only your college applications but also your scholarship applications.
Leverage Personal Connections and Local Resources
Reach out to your network and your network's network. It's a great place to start to see if they know of any scholarships for which you might qualify.
The employers of your parents or older siblings could offer scholarships. If you've had a part-time or summer job, those employers may also provide scholarships.
Do you have teachers, professors, or coaches with whom you clicked? Try to find people who work in the career path or field of study in which you're interested. See if they have any advice on scholarships to apply for or how to optimize your scholarship application. These people could be great mentors and even write letters of recommendation on your behalf.
A school counselor is also an excellent resource for understanding scholarship eligibility and application. Neighborhood friends can also be people to talk to about potential scholarships.
If someone says they don't know, ask if they know anyone with whom it might be helpful for you to talk. The bottom line is it never hurts to reach out and ask, or you could be leaving money on the table.
Don't Overlook Local Scholarships
Many scholarships reward students based on their geographic region. Each state generally offers many opportunities for grants to those who reside there.
Organizations and nonprofits in your hometown can also be great places to look, as they may offer scholarships for residents. Some volunteer organizations even donate scholarship money to participants. If you've done community service, try asking other volunteers and people from the organization about their experiences with scholarships.
Write and Edit Your Scholarship Essay
A well-written essay for scholarships with this requirement will set you apart from the pack. It's a chance to demonstrate your writing skills and showcase what makes you a great candidate. Once you've crafted a solid draft, there are things you can do in the revision process to improve your writing.
Read Your Essay Out Loud
Your ears can sometimes catch mistakes or clunky wording your eyes can't. You can even record yourself reading the essay out loud and then listen back to it for a more thorough approach to editing. Make sure it sounds professional but also conversational.
Proofreading Technology
Tools like spellcheck and autocorrect are your friends in any type of professional or academic writing. Another favorite AI-powered editing software is Grammarly, which offers real-time suggestions for your essay. It helps you create easier-to-read sentences, replace repetitive or outdated language, and adhere to standard spelling, punctuation, and grammar conventions. It's a reliable and efficient method to catch mistakes in your writing.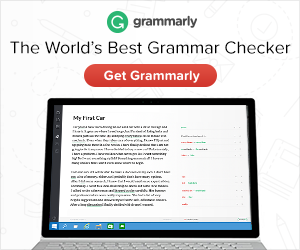 Have Someone Workshop with You
Getting as many eyes on your essay as possible before submitting it can significantly help reduce unnecessary errors. It's always better to have multiple perspectives on a piece of writing. Others may be able to identify ways to enhance your argument. Try asking a friend if you can swap essays and give each other feedback. It can be helpful to talk to someone who knows what you're aiming to achieve and who's in the same situation.
>>RELATED: How to Prepare For A Scholarship Interview
Do Your Best
You can do all the right things and still not get your desired outcome. But the more you do to organize, prepare, and strategize, the more likely you'll be to succeed in achieving your goal of earning a college scholarship. Give it your all, and remember to breathe.
Good luck!
Visit our free college scholarship database to find a scholarship opportunity to save you money.
*This page contains affiliate links, meaning we get a commission if you decide to make a purchase through these links, at no cost to you.