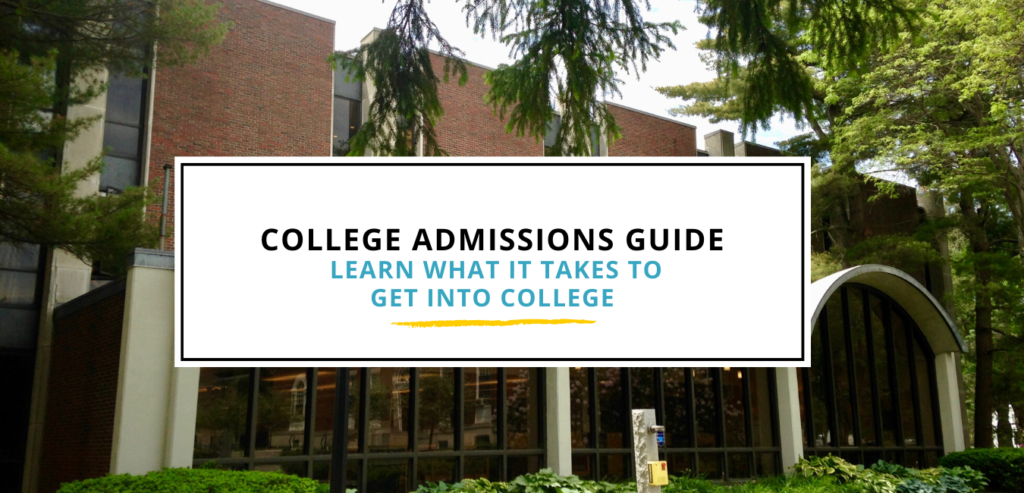 Applying to college is, without a doubt, the most overwhelming and stressful time for most students and families. Parents voicing their expectations, friends listing their dream schools, and urban legends flying around about who got in where and how.
Adding to the frenzy, is the media's obsession with the top 10 or 20 colleges from the US News & World Report's list. If you only listen to the news, you would not realize there are dozens of other great liberal arts colleges and universities that exist around the country. There are some amazing, perhaps not-as-well-known, liberal art colleges that offer an education on par with some of the top colleges and graduate students that go on to change the world.
As you apply to college, don't forget to look inwards. If you are tuned into your own values – the things that are important to you, you are likely to end up in the right place.
Why should I go to college?
There are many benefits to going to college, including personal growth, building critical thinking skills, preparation for a career and establishing a path to financial independence.
The economic advantage to going to college is clear. College graduates enjoy higher earnings and are less likely to be unemployed when compared to students who only have a high school diploma. After you graduate college, you will also have a wider range of professional opportunities available to you.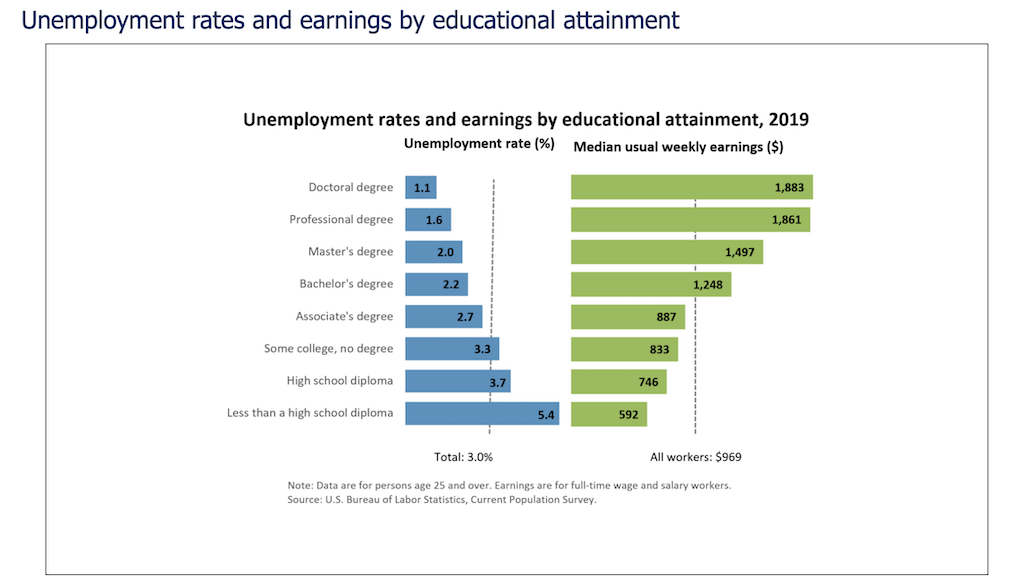 When should I start preparing for college?
It's never too early to begin thinking about college. As soon as you hit high school, every grade you earn will count towards your record a college admissions officer will review. If you are a rising sophomore, junior or senior and you haven't started thinking about the academic requirements of colleges, or even developing a college list, now is a good time as any.
You should start strong. Challenge yourself, commit to studying and work hard to get your best grades. If your high school offers honors and AP courses, you should take a few. Admission officers tend to look favorably upon students who have taken advantage of the opportunities available to them.
Taking honors, AP, IB and dual credit classes will ensure you are challenging yourself. In addition, it will prepare you for college level work. If for any reason you find yourself struggling in a class, get help. Many teachers are available and happy to invest extra time to tutor you. Use your summer to prepare before you take on a challenging class in the fall.
You will also need to invest time preparing for the SAT or ACT exams. Plan to take the exam once in your junior year and then once again in your senior year to get the best score possible. While over 1200 colleges and universities are going test optional for the next couple of years, due to the pandemic, this trend might not last. Don't let the price of test prep keep you from preparing for the exams. There is free SAT preparation available through Khan Academy and free ACT preparation resources available through the official makers of the exam.
Extracurricular Activities
Another area of importance is your extracurricular involvement. It is essential that you show admission officers how you are engaged in your community or what you are passionate about outside of the classroom. Most high schools will offer dozens of clubs, sports teams and competitive teams.
If you are interested in a particular activity (for e.g., photography or bird watching) and your school doesn't have a club, go ahead and start one. In most cases, you will need to get a teacher to serve as a sponsor. Most teachers will be happy to help. By the way, a paid job is considered a legitimate after-school activity. Remember to add it to your resume when applying to colleges.
Extracurricular activities can also help you discover a career path. For example, if you volunteer to write for your school newspapers, you might decide that what is something you want to pursue as a career. Whatever you do, ensure you show commitment in something you are passionate about. Jumping from one club or activity to another could give the wrong impression. Another way to discover a career is by taking an interest assessment. It will help you understand the career field and majors you are more likely to find satisfying.
How can I get into one of the top colleges?
Getting into to an Ivy League school is highly competitive and attract many of the valedictorians, salutatorians and other top students from around the US, and from around the world for that matter. While getting accepted to one of these institutions is not altogether impossible, it requires that you start preparing early and that you remain committed to building a strong portfolio through senior year.
To stand out from thousands of highly qualified students, you will need more than amazingly good grades and test scores. You will also have to demonstrate a record of leadership, a unique talent or interest, or compelling circumstances that set you apart from this pool of top applicants. You will need a passion for something greater than yourself.
John Hopkins University, for example, a top-ranked university, admits less than 15% of its applicants and fills 98% of its class with students from the top 10% of their graduating high school class.
Highly selective college campuses are made up of very diverse students — valedictorians, star athletes, innovators, creative types, immigrants, privileged and underprivileged students. Their student bodies also include students who are the first in their families to go to college. If you are a first-generation student with the academic chops, then you shouldn't pass up on the opportunity to attend one of these colleges because you think you might not fit in, or you think it's too expensive. Ironically, many of the highly selective colleges are known for being the most generous so most students never pay full price.
>>RELATED: Financial Aid Guide
In general, whether you are Ivy League bound or not, you should strive to challenge yourself and contribute to your community. You should also aim high in your college choices (ensuring your list consists of a couple of safety colleges) while recognizing that there are dozens of great colleges and universities that can offer you a great education and prepare you for a very successful life and career.
What if I don't know what to study in college?
It is not essential to have a major or career in mind before entering college. In most cases, you will be able to wait until your second year before declaring a major. Some students start out with one major and later develop different interests over the course of their college career. In fact, most college students will change their major several times before graduation.
However, while it is possible to select a major or change your major after you arrive on a college campus, you should ensure you do it sooner rather than later. Waiting until your third year to change your major could mean additional time spent in college, which in turn means additional costs.
Having an idea of the field you want to pursue before college has some advantages. Some majors, for e.g., anything in the STEM field, might require more advance Math and Science classes so knowing early about these options while in high school will help you prepare to be a competitive applicant for these programs.
Interest Inventories
There are many tools to help you discover how your current interests and strengths could parlay into a major or career. Two of those tools are: Department of Labor's O*NET Interest Profiler and The College Board's Big Future.
The Department of Labor assessment takes less than 30 minutes to complete. You will answer about thirty (30) questions before being presented with a list of career options that could be a good fit for you
>> RELATED: How to Use The Net Price Calculator
How many colleges should I apply to?
You do not need to apply to more than six to twelve colleges, depending on your circumstances. At a minimum, you should apply to four colleges. Your list should have two to four safety colleges, two to four match colleges, and two to four reach colleges. When selecting a college, you should take into account admission requirements, affordability, location, programs or majors offered, enrollment size, class size, graduation rate and other factors that are important to you.
The 2018 college admissions scandal involving parents paying hundreds of thousands of dollars to get their students into highly selective colleges (for e.g., USC, Yale and University of Texas and Yale) highlights the competitiveness of the college admissions process.
However, most colleges accept the majority of the applicants, but sadly the media tends to focus on the ones that accept less than 10% of its applicants. This admissions frenzy has given way to more angst among college applicants. In turn, the average student is applying to a larger number of colleges. Not so long ago, I read a news article of a student who was accepted to 39 colleges. While this was a sensational story for the media, and while the student probably had the best of intentions, this is not something 99.9% of college counselors would ever recommend.
There is no reason a student should ever consider applying to 20+ colleges. As a rule, I would generally recommend no less than six, no more than twelve unless, of curse you have unusual financial circumstances. Even then, if you have taken the time to do your research on the front end, you should be able to find a good fit (financially, academically and socially) from a list of twelve or less colleges.
The U.S. Department of Education's College Affordability and Transparency Center has College Scorecards that allow you to go through a host of different factors (affordability, location, programs or majors offered, enrollment size, etc.) and provides you with the critical information necessary to make an informed decision about one of the most important decision of your life.
Do I need extracurricular activities to get into college?
Although your grades in high school are one of the most important factors in a college's decision to accept or reject an applicant, your extracurricular activities matter. Colleges are very interested in students who have a love of learning and are making an impact in their community. After-school activities can allow you to build leadership, team work, problem solving skills and strengthen a talent.
In selecting an after-school activity, think quality over quantity. Try to select something you are genuinely interested in doing or volunteering for a cause you are very passionate about. While doing this, it is important to show some consistency in your efforts and some growth in your level of responsibilities. For example, if you start out as a member of a club in 9th grade, consider taking on a more responsible position the following year. Colleges will gauge your character and leadership based on your commitment to a cause or activity.
Colleges admission officers understand that some students may have to work to help out their families or babysit their siblings after school. Remember to list all of your activities, even if you are doing them from home.
Strong academic scores and a unique talent or exceptional leadership could let you rise to the top of the application pile. Be thoughtful about where you spend your time. Follow your passion, but also be strategic and try to compete for leadership opportunities if you are a member of a club. And, remember, if your family circumstances make it impossible to participate in after-school activities, you should not worry.
What factors do colleges consider when reviewing my application?
Based on research by the National Association of College Admission Counselors (NACAC), most colleges place most emphasis on the following by rank: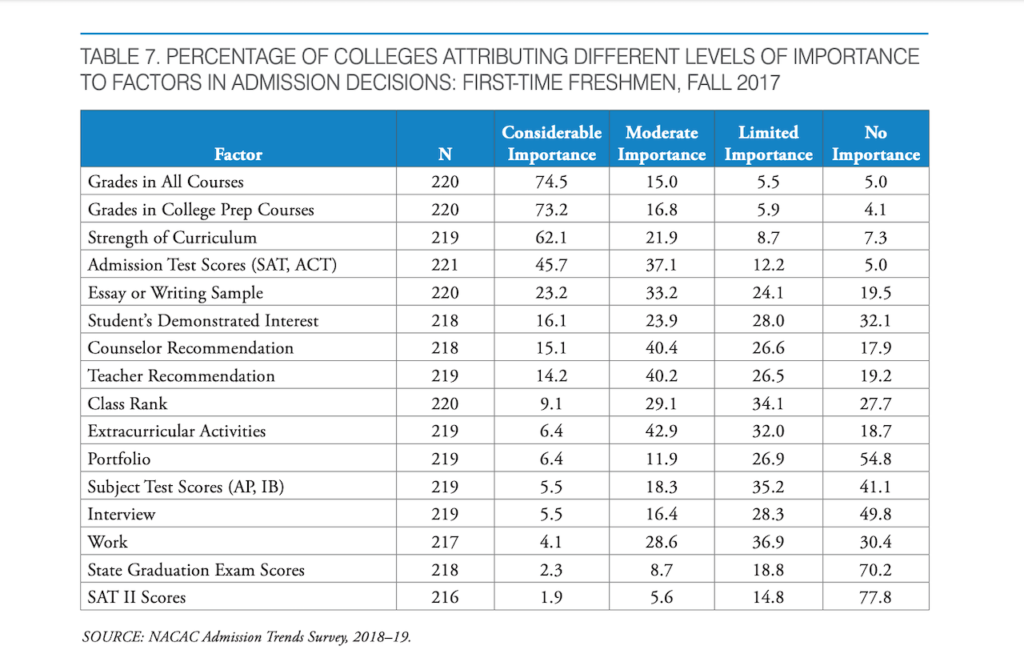 As the table indicates, colleges place the most emphasis on your grades in regular and college prep courses; admission test scores; and your essay. The other items on the list are important. However, the level of importance will vary based on the selectivity and type of college (private or public). For e.g., a few private colleges will consider "demonstrated interest" — any documented interest you have shown in the school – for e.g., a campus visit or interaction with the admissions rep.
How you contribute to your community through extracurricular activities is another important factor.
When should I take the ACT or SAT?
Most students dread the thought of having to take the SAT and ACT. They wonder why they have to be tortured (a right of passage for most high school students) for four hours on a Saturday morning. They are also not sure why these four hours could potentially change the course of their lives. The truth is, it could. Strong test scores paired with a strong high school academic record, could open doors at your first choice college and give you an opportunity to compete for very generous merit scholarships.
It is recommended that you take the SAT or ACT at least once as a junior, then once again in our senior year if you are not happy with your score. Keep in mind, some colleges will "superscore" your tests results — taking the highest score from each section over two or more test dates.
Both the SAT and the ACT offer preliminary exams that will help you gauge where you are in terms of college readiness and help you prepare for the actual exams. The results from these exams highlight your strengths and weaknesses allowing you to address any academic gaps before test day and graduation.
The preliminary versions of these exams – the PSAT/NMSQT for high school juniors (in October) and Preliminary ACT (offered throughout the year) for students in Grade 10, are offered through your school. Some high schools also offer PSAT-10 for students in Grade 10.
Acknowledging that some students struggle with testing, some colleges are beginning to go test optional. However, the vast majority of colleges still require your test scores from ACT or SAT which, by the way, is considered the third most important factor in college admissions (NACAC, 2015).
There are free test prep resources available online. The College Board, official makers of the SAT, offers free preparation through Khan Academy; and ACT offers free ACT preparation through its official website.
Special Note: Due to the COVID-19 pandemic, many colleges are waiving the ACT and SAT requirements for the next few college application cycles. Please check with each college on your list for the most up-to-date guideline.
What's In a Score?

When reviewing the test scores on a college's website, keep in mind that the numbers are not a cut-off point. Most colleges will list the SAT and ACT scores for the middle 50% of admitted students. This means that 25% of students had higher scores and and 25% lower. In the example below, John Hopkins University lists the test scores of admitted students that fell in the middle 50th percentile for the Class of 2023 — SAT 1480-1559 and ACT 33-35.
SAT Subject Tests
Some colleges, mostly highly selective ones, require SAT subject tests. These tests are 1-hour long and required by many highly selective and Ivy League colleges. You are able to do up to four in a sitting and may even elect to do a test on the day of the test even if you haven't previously registered. Competitive scores for highly selective colleges range between 700-800.
How do I apply to college?
Senior year is college application time! Although you will technically start preparing for this in the summer leading up to your senior year.
There are many pieces that are included as part of your overall college application. Some of this information will be sent directly from your high school, others you have to submit on your own. Check with your high school counselor and the college to learn how each piece of document should be submitted.
The most important pieces you will have to submit are:
Transcripts with your grades (often includes AP scores)
ACT, SAT, SAT Subject tests scores
AP scores
College credits, if applicable
Letters of recommendations – from teachers and counselor
Essays
Activity Sheet or Resume
Not every college will require the same type of information, so read the college application requirements carefully. The highly selective colleges tend to require more documentation, such as subject test scores.
All of the documents listed above are submitted as part of your college application. Four of the most widely used college applications are:
State specific applications (for e.g., students in Texas can use ApplyTexas for all state colleges and a few private colleges)
You will need to complete one or more of the above listed applications depending on where you are applying. Check the college's website for instructions.
Should I apply for Early Decision?
Early Decision can improve your odds of admission into a college. In some cases, colleges fill almost 50% of their class from ED, which also gives students in some cases a higher chance of getting into the program. Over 400 colleges offer early decision or some other form of early action.
The Early Decision (ED) option is binding and often has a November 1 deadline. If admitted, students are expected to attend. Part of your application will require an Early Decision agreement from you and your counselor, and your counselor will only be able to sign one such agreement. You can apply to other colleges regular decision, but often cannot apply EA restrictive. Therefore, you should only apply ED if you are very serious about attending the college and if you think you can afford it. If your financial circumstances change after you apply or if the college did not offer you the financial aid package you expected, then those are grounds for breaking your commitment.
Here are some of the other application options that are available. Please check with each college's policy as it could vary from college to college:
Regular Decision is the standard application deadline for a college. Many colleges have deadlines between late November and early January.
Early Action: This is a non-binding option and students apply early and learn of the admission decision early, generally around late November or early December.
Early Action Restrictive | Single Choice Early Action: This a like early action, but with some restrictions – often limiting you from applying Early Decision or Early Action to other schools.
How can I apply for financial aid?
You will apply for financial aid during your senior year of high school, around the same time you are applying for college.
Financial aid comes in the form of grants, loans, scholarships and work-study and comes primarily from the federal government, state government and colleges. Each year students must fill out the FAFSA, CSS PROFILE or other financial aid application to determine eligibility. Both the FAFSA and the CSS PROFILE will be made available on October 1 of your senior year.
Financial aid is made up of money you receive as a gift (scholarships and grants) or money that is loaned to you to pay for college.
Some financial aid is available on a first-come, first-serve basis and when those funds run out students will miss out on those types of aid.
>> RELATED: Financial Aid Guide
Some colleges may also have their own financial aid forms that you are required to complete. Check with the college's Financial Aid Office or website to determine what items you will need to submit.
If you are admitted to the college, you will receive a financial aid award at, or around, the same time you receive your letter of acceptance. Take time to compare all financial aid offers to ensure you understand the amounts that are in loans versus grants or scholarships. The award letters are not standard, so the information presented can be rather misleading. However, don't get overwhelmed by this task, the College Board has a comparison calculator to help you with this process.
>>RELATED: How To Review Your Financial Aid Award
Final Thoughts
The best way to keep from being overwhelmed and, more importantly, ensure you are on track for college, is to begin planning well ahead of senior year. Starting early will allow you to break up the process in manageable pieces and ensure you have selected challenging courses, engaged in substantive extracurricular activities, and ensure you are well prepared for the college entrance exams – a right of passage to most colleges in the United States.