Some colleges claim to meet 100% of a student's demonstrated financial need, but what exactly does that mean?
In simple terms, "demonstrated financial need" is the difference between the Cost of Attendance (COA) and your Expected Family Contribution (EFC). This is the amount in financial aid you are eligible to receive to pay for college, based on the formula used to calculate your EFC.
COA is a college's sticker price -- the cost to attend college for one full academic year.
EFC is the amount that is used to determine your eligibility for need-based federal financial aid. This amount (your EFC) is based on the data you provided in the FAFSA.
Private colleges that require the CSS PROFILE financial aid application use the data submitted in that application to calculate your EFC and eligibility for their institutional financial aid (the college's own funds).
In order to find your demonstrated financial need, you must subtract your EFC from the COA. Keep in mind, your demonstrated financial need will be different from college to college since the COA is usually different for every school.
An Example of Demonstrated Financial Need
| Cost of Attendance at Davidson College (2019-20) | $70,627 |
| --- | --- |
| Minus EFC (based on data provided in your FAFSA) | -$10,000 |
| DEMONSTRATED NEED | $60,627 |
| *Students are expected to report outside scholarships to the college's financial aid office. This amount could be used to reduce your demonstrated need or used to offset your EFC. | |
Based on the example above, if your EFC is $10,000, your demonstrated need would be $60,627.
If a college meets 100% of demonstrated financial need, it would provide a financial aid package totaling $60,627. However, the financial aid package could include loans.
For colleges that meet 100% of demonstrated financial need without loans, the financial aid package might contain a mix of scholarships, grants and work-study (student employment).
Only a few colleges meet 100% of financial need without loans. These colleges include Bowdoin College, Brown University, Davidson College, Harvard University, and Princeton University. The majority of colleges will not meet the demonstrated need amount -- a practice known as "gapping". This means families will have to pull from their savings or take out loans to cover their unmet demonstrated need. Students might also have to take on part-time jobs to help cover college costs.
How Can I Find My Demonstrated Financial Need?
To determine your financial need before you complete the FAFSA, you must start out by first finding your EFC. To do this, visit the College Board's EFC Calculator and answer a series of questions.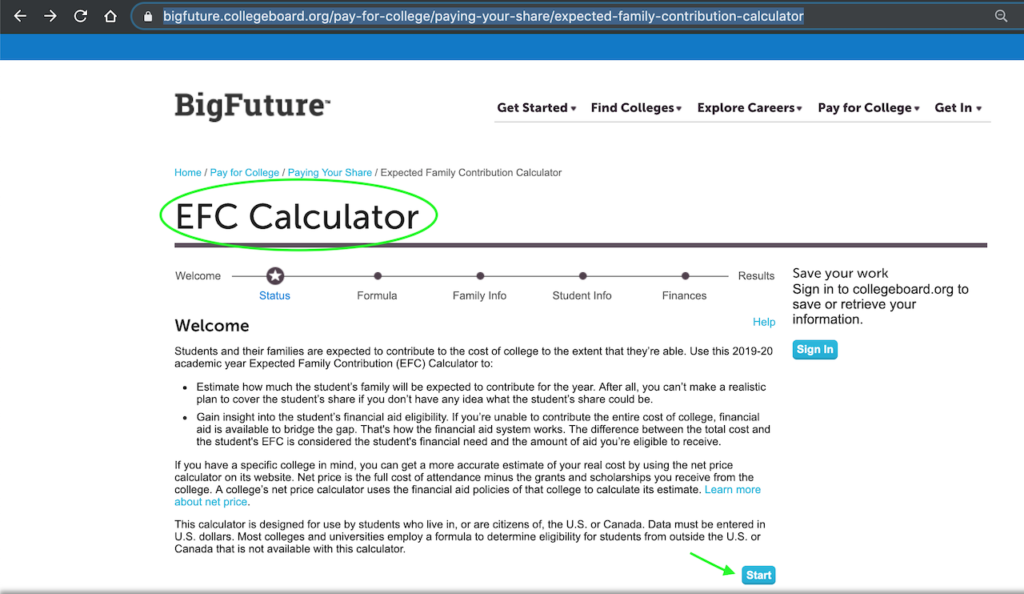 When you get to the section labeled "Formula", select the "both FM & IM" button to use both institutional and federal methodology to calculate your EFC.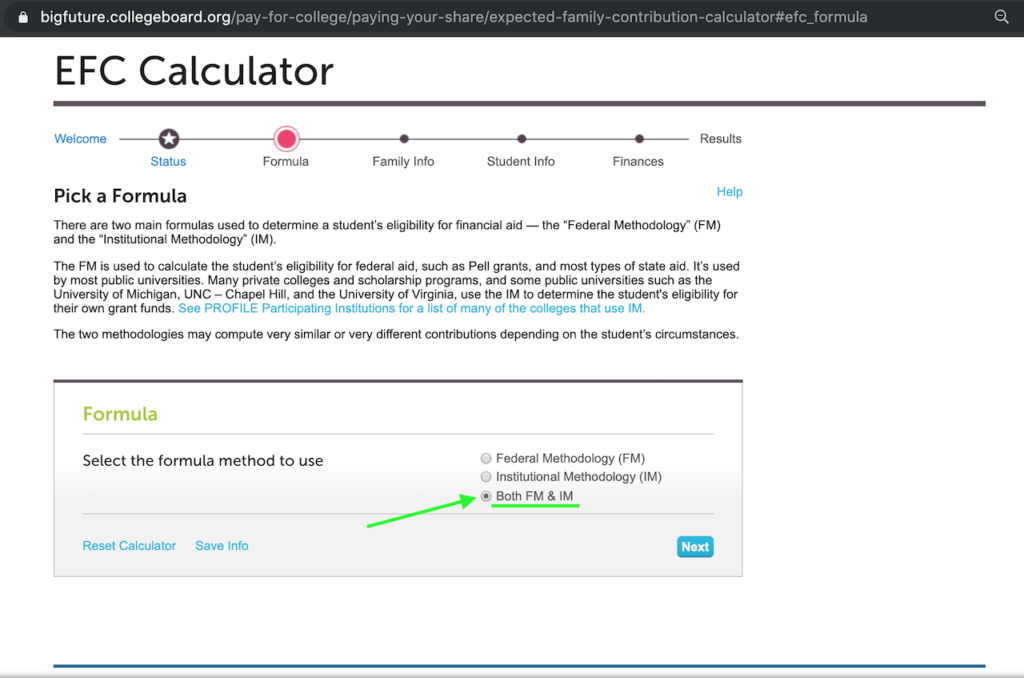 Colleges use the federal methodology to award federal financial aid, and institutional methodology to calculate eligibility for the college's own financial aid dollars.

>> YOU MIGHT ALSO LIKE: FINANCIAL AID GUIDE
Now that you have your EFC in hand, it is time to find your demonstrated financial need (COA minus EFC) for any college. Subtract your EFC from the COA for any college and (voila!) you have your demonstrated need for that college.
Your demonstrated need alone only suggests that you have legitimate need for financial aid assistance. It doesn't tell you how much a college will actually give you if you are accepted. The best way to do this is to find your Net Price.
You can find your Net Price for any college by visiting the Net Price Calculator Center. The Net Price gives you an estimate of what you might expect to pay for college after taking any scholarships or grants into account.
Conclusion
Taking the time to figure out your EFC, demonstrated financial need and Net Price could make it easier to plan for college. It will help you target colleges that are more likely to meet most, if not all, of your demonstrated need. This could end of saving you tens of thousands of dollars in student debt.