With so many colleges to choose from, it can take time to decide which one is right for you, and even harder to figure out which ones you can afford. Luckily, there are tools available to help you find an affordable college. One of these tools is the College Scorecard, which is an initiative by the US Department of Education.
When looking at colleges, it's important to know that most students don't pay the full cost or list price of a college. How much you pay for your child to attend a particular college depends on your family's financial situation and where your student ranks in the applicant pool (for merit scholarships).
In this blog post, we'll give you a step-by-step guide on how to use the College Scorecard. This tool will show the average cost families can expect to pay at a specific college. It also allows you to compare colleges side by side. While some other tools, like the Net Price Calculator, may give you a more accurate estimate of how much college will cost, the College Scorecard still has value.
You should use this tool along with others, like the Net Price Calculator, to get a clearer estimate of your college costs. Ultimately, the only way to know exactly how much you will pay at any college is after you apply for financial aid using the FAFSA and CSS PROFILE.
>>RELATED: How to Find the Right College For You
What is the College Scorecard?
The College Scorecard is a website that provides detailed information about colleges and universities in the United States. It gives data on costs, graduation rates, average student loan debt, and potential earnings after college. This information comes from many sources, including federal student aid records and tax data.
How to Navigate the College Scorecard
When you visit the College Scorecard website, you'll see an easy-to-use page where you can look for specific colleges or explore schools using different criteria. Here's how you can use it:
1. Finding Colleges
To search for a college, type in the name of the college. You will then be taken to a results page where you can click on the college to get all of the information about the college, including annual average cost, graduation rate, and median earnings.
From there, you can add other colleges to compare side-by-side.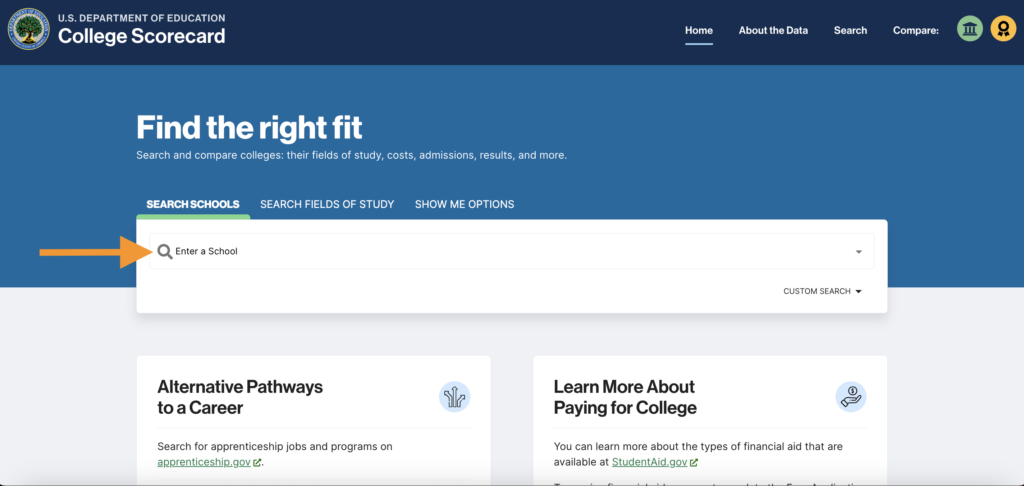 >>RELATED: How to Pay For College
2. Filtering Colleges to Meet Your Criteria
Filters can be used to narrow your search results.
From the homepage, click on "Search Fields of Study" to search for colleges based on majors. Or click on "Show Me Options" to search for colleges near you, where most people get in, and where most people graduate.
You can also find a long list of filters (on left side of the screen) after you select "Custom Search" (below search bar). Alternatively, you can reach this list of filters by adding the name of one school and then hitting "enter".

Using the list of filters located on the left of the screen, you can narrow your results by things such as graduation rate, average annual cost, test scores, acceptance rate, size, type of school. This will help you find colleges that match your criteria.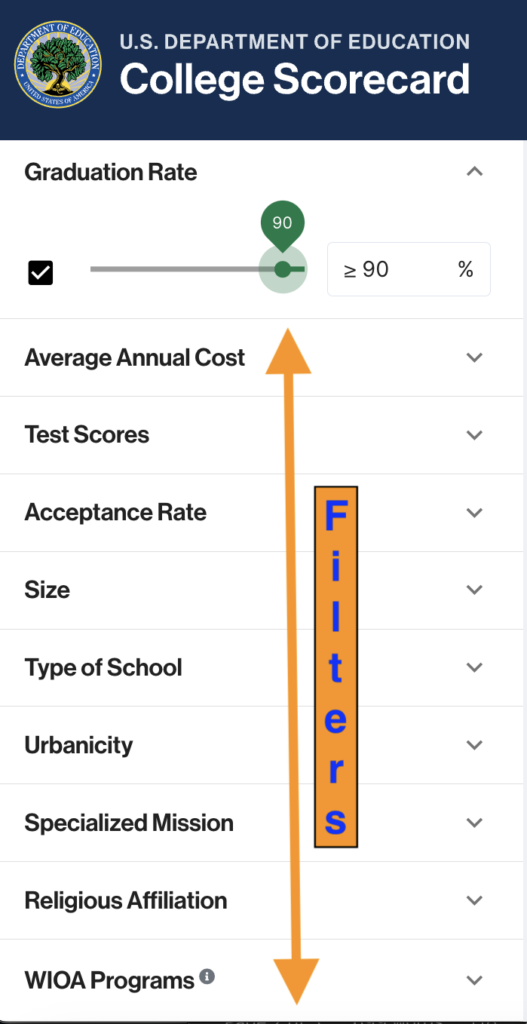 3. Comparing Colleges
The College Scorecard lets you compare colleges by selecting multiple schools and looking at their information at the same time.
Since our main focus here is to compare costs, you can zero in on the average cost, average cost by family income, and student debt data. You can also compare how much money students make after they graduate.
You can select up to four colleges to compare.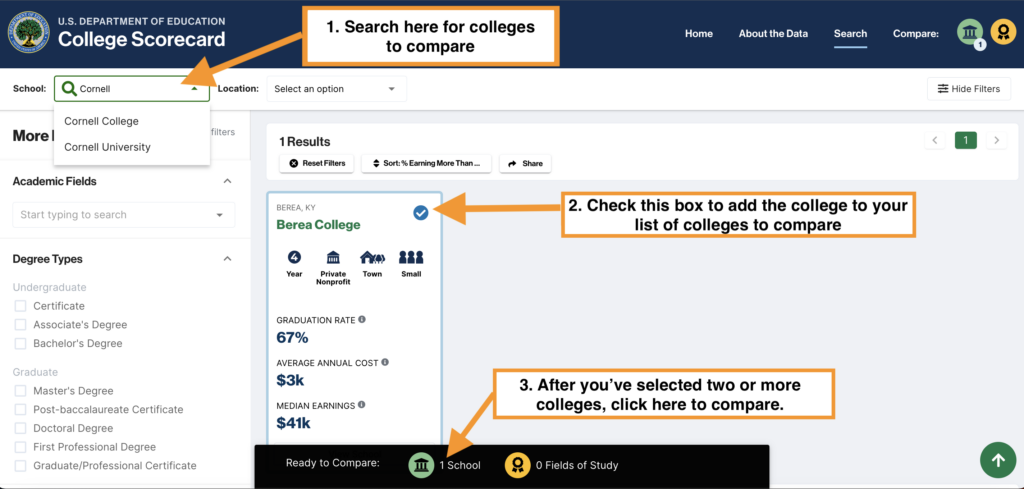 5. Unlocking College Affordability: Key Metrics
When using the College Scorecard and comparing colleges, here are a few things you should pay attention to when deciding if a college is affordable:
a. Average Cost vs. Sticker Price
While most colleges will list their full cost of attendance or sticker price, most students never pay this full price. Instead, you should focus on your own Net Price or, when using The College Scorecard, average cost and average cost by family income. Average cost list on The College Scorecard includes things like tuition, living expenses, books, and fees, after grants and scholarships are factored in.
The College Scorecard shares information on the average cost of going to a specific college. You can also see the average cost based on your family's income. Keep in mind that your costs might be different depending on your family's financial situation. However, this number can point to a college's generosity.
In the example below, I picked three small, private liberal arts colleges similar to Berea College to compare. Here are the colleges and their costs:
| | | |
| --- | --- | --- |
| Name of College | Cost of Attendance | Average Costs (After aid) |
| Berea College | $54,396 | $3,442 |
| Agnes Scott College | $60,546 | $12,423 |
| Spelman College | $48,244 | $29,102 |
| Bowdoin College | $76,310 | $16,925 |
You will find the average annual cost families pay under the "Costs" tab on the College Scorecard's results page (see below).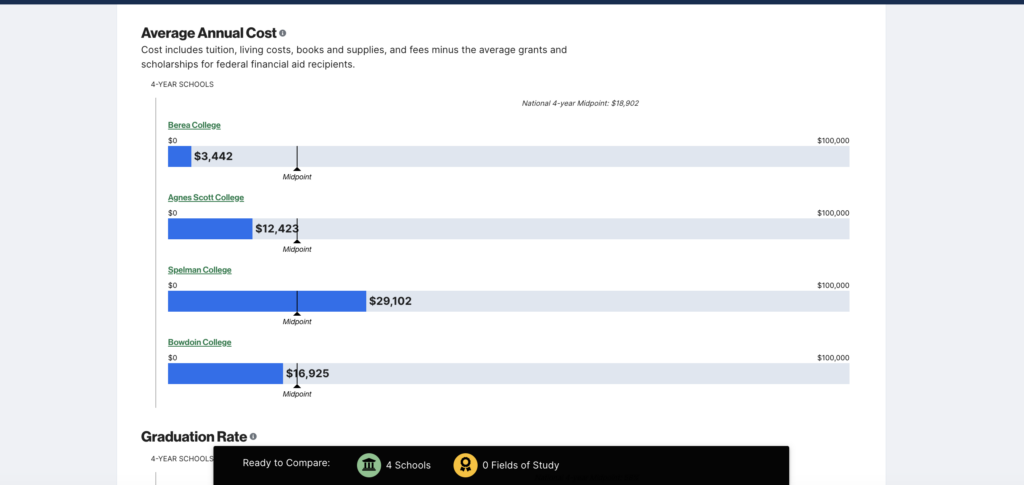 As you can see, although Bowdoin College has a very high list price of over $76,000, their average annual cost for families is actually under $17,000. This suggests that Bowdoin offers a significant amount of scholarship dollars to students and can be considered a generous college.
Berea College has the lowest average cost at $3,442. It is a tuition-free college, so most students' expenses will be housing, books, and fees. After all scholarships and grants are factored in, the average family will pay under $4,000. Berea is, by any standard, a very affordable college for many families.
b. Average Cost by Family Income
College Scorecard also provides the average annual cost at each college based on a family's income.
Below, is the average cost a family with an income under $30,000 can expect to pay.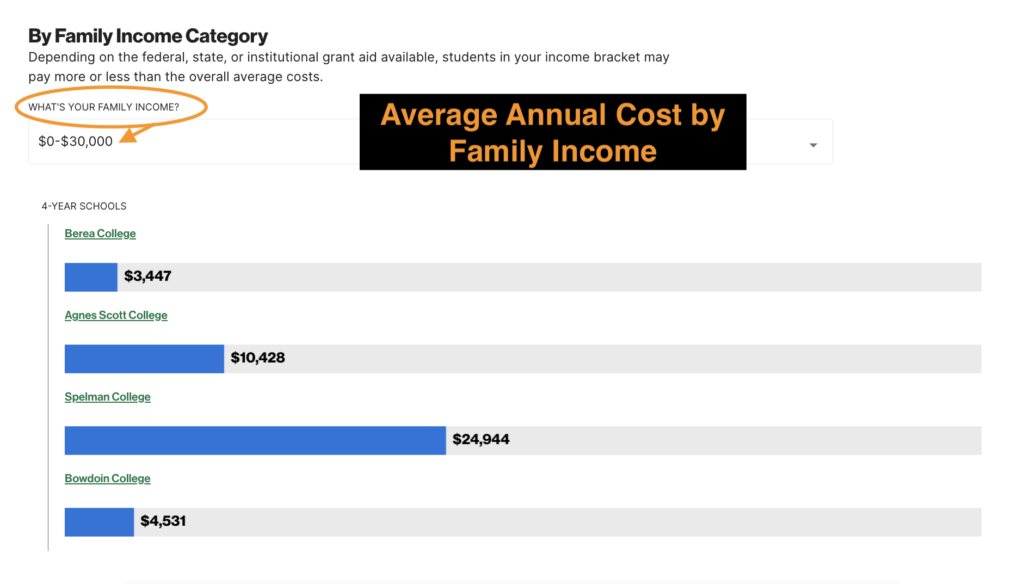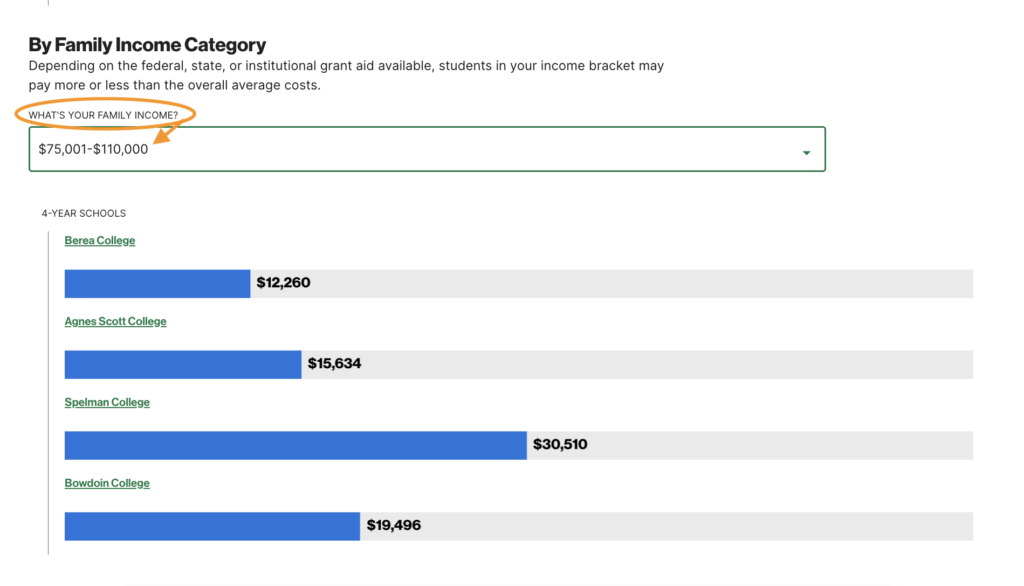 c. Average Student Loan Debt
Understanding the average student loan debt at the colleges on your list is another important factor to consider. The average student debt shows how much money students usually borrow at a specific college. But it doesn't show everything.
Parents should also look at things like how many students graduate, how much money people make after they graduate, and if there are any scholarships or financial help available. Sometimes, a higher average student debt is okay if it means students make more money after they graduate. It means they get a good payoff for the money they borrowed.
>>RELATED: 5 Reasons You Should Borrow Less For College
Digging Deeper
Along with the College Scorecard, it's important to look deeper into the financial data and other information available for each college on your child's list.
Once you have a list of potential colleges, visit their official websites to find out your net price. Net price refers to the actual cost that a student or family will pay after subtracting any grants, scholarships.
In general, net price is considered a better indicator of what you are likely to pay because it is based on your family's financial circumstances.
>>RELATED: How to Use the Net Price Calculator
However, both net price and average costs should be considered when evaluating a college's affordability.
Conclusion
The College Scorecard gives parents the tools they need to make informed decisions about their child's college education.
By using this platform effectively, you can compare colleges, look at average annual costs, and learn more about their outcomes. Combine this with other research like graduation rate and potential earnings to make a well-rounded decision. Use the College Scorecard's information to help you and your child find a college that suits your pocketbook. However, don't forget to check out the Net Price Calculator at each college too.