Learning how to write and edit your scholarship essay will help you submit a top-notch scholarship application. It will also allow you stand out from other applicants. Better yet, it can increase your chances of actually winning.
Most scholarship applications require an essay. Although writing a great essay takes time, it's well worth the effort. Follow these seven tips to write and submit your best work.
>>RELATED: How to Get Scholarships in 2022
Stick to the Topic
When getting ready to write an essay for a scholarship you're interested in, make sure you understand the essay requirements. Understanding what the prompt asks of you can save time during the writing and revision process.
You could write the best essay in the world, but if you write about the wrong topic, it won't do you much good. You'll want to fully answer the question and understand how to use it to position yourself as a worthy candidate.
Brainstorm
Figuring out what to write about can be one of the more daunting tasks in writing a scholarship essay. You can begin by asking yourself a few questions (this list is not exhaustive) to get the wheels turning, such as:
What story would I be excited to tell?
What challenge/s did I overcome? What did I learn from it?
What are my biggest strengths? What story will help me highlight them?
What experience helped me discover my calling/purpose? Was it shadowing a doctor? Or is it experiencing food insecurity?
Is this a topic that the application readers would find interesting?
As you answer the questions, think about the theme you want to convey to the scholarship committee. For example, do you want them to see you as a committed environmentalist or social justice warrior. A clear theme will help you select the right stories to tell.
Doing a bit of free-writing could help you find some interesting stories. Just put pen to paper and see what comes out. You might surprise yourself with the ideas and topics you come up with after a few minutes of uninterrupted writing.
>>RELATED TOPIC: 7 of the Biggest Scholarships You Can Win
Plan and Outline
Once you've brainstormed and have chosen a theme or story, it's best not to start writing willy-nilly. Instead, develop an outline that includes an introduction (with a great hook), body paragraphs, and your conclusion. 
You'll most likely want to stick to the five-paragraph essay format or a close variation. It all depends on your word limit. An essay in this format gives you room for a solid introduction, body, and conclusion. Use one paragraph to introduce your topic, a few body paragraphs to support your claim, and a final section to summarize and drive home your argument.
The first sentence of each body paragraph will act as your topic sentence, which outlines what's to come in the rest of the section. Plan out your topic sentences and a few supporting bullet points for each one, and you'll be on your way to a fully fleshed-out essay in no time.
Include a Hook
Having something early in the essay to grab the reader's attention will make them more likely to stay engaged throughout the paper. The person reading your scholarship essay probably has hundreds—if not thousands—of essays to read on the same prompt. Including something that makes you stand out early on can give you a real leg up on the other essays by intriguing the reader.
Tell Your Story Well
Even within the five-paragraph structure, you don't want to skimp on the story you're telling the people making the final decision. People are accustomed to hearing information presented to them in a narrative form.
Humans rely on stories to organize and understand their world, so make it easy for the reader to follow your story. 
Giving your essay a clear beginning, middle, and end structure will help with the flow and comprehension of your piece.
Write to Persuade the Reader
Ultimately, your scholarship essay is a persuasive piece. You're attempting to convince a person, group, or organization that you are the best candidate for that scholarship. Be sure to persuade them why that person should be you.
To craft a convincing essay, implement rhetorical devices to persuade the reader. Some of the oldest used methods of persuasion come from Aristotle, and a concept sometimes referred to as the "rhetorical triangle" because it includes three elements:
Pathos: Acts as an appeal to the reader's emotion. You'll want to use specific details and images. The goal is to tap into the reader's empathy and humanity by providing tangible examples associated with feelings.
Ethos: Relies on giving the writer a sense of credibility and authority. Being clear and authentic will prime the reader to be convinced by your essay. Resist the urge to make up stories.
Logos: Uses reason and rationale to convince the reader of the writer's claim. Make sure the essay is easy-to-follow and well thought out.
For optimal argumentative technique, include a balance of the three rhetorical strategies in your essay. Your topic and content will determine which devices should be relied on more heavily.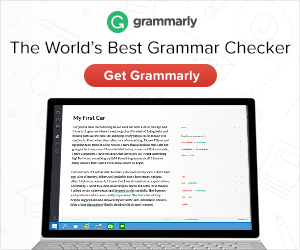 Proofread & Edit
No writing is ever perfect on the first draft. Like anything else, your scholarship essay will require a thorough review and edits—probably multiple rounds.
After you've written your first draft, step away from your essay for a few hours. This will help you return to it with a fresh pair of eyes.  
If you can, get one of your teachers or your parents to edit your essay and provide feedback. Getting feedback will help you refine your writing.
While editing your scholarship essay, pay attention to:
Punctuation
Sentence fragments and run-on sentences
Tone and style – Personal essays can be informal; however, avoid slangs.
Clarity
Before you submit your scholarship application, have someone Ask someone to review your final scholarship essay before you hit the submit button. 
Final Thoughts
Writing a great essay takes time. Write, revise, repeat, then get a friend, teacher, or parent to review your scholarship essay. Submit your essay only when it's free of typos and grammatical errors. It pays to be extra careful when a scholarship is on the line.
Whether you get the scholarship will rely on various factors, the essay is just one of them. Do all you can to make the essay as convincing as possible. If you do your best with the entire application, you should have a good shot.
Visit our database to see a list of thousands of potential scholarships.